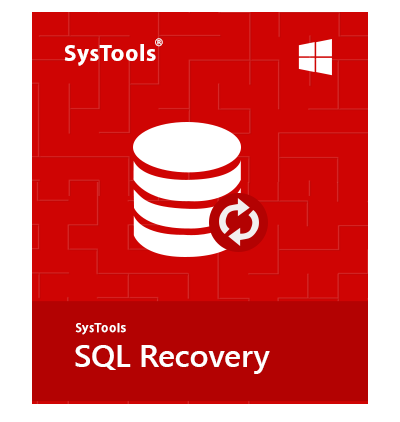 Systools SQL Recovery
SQL Recovery tool from Systools is an advanced tool which helps to repair SQL database files and recover deleted tables without losing a single bit of data.
Two scanning modes for better file recovery
Recover SQL database Primary and Foreign keys
Support ASCII and Unicode XML datatype
Export File into SQL Server Database
Recover only those files that are required by the user
Recover SQL MDF and NDF Files
Get Back SQL Server Database Triggers, Tables, Views
Recovery of Data from MDF files affected by Wallet Ransomware
Features of Systools SQL Recovery Program
SQL Database corruption harms a large number of files, The data in these files possess the risk of data loss and hence should be recovered easily, Equipped with smart search and recovery technologies the SysTools SQL Recovery software is the first choice of database administrators.
Fix SQL Server Errors
The SQL recovery software is able to fix the common SQL errors which are the major cause of MDF file corruption. It resolves the SQL server error 5172, 8946, 823 and error code 926. The tool analyze the file and then runs the recovery engine to eliminate the objects causing these errors. It also helps to get a new error-free SQL database.
Preview Objects of MDF/ NDF Files
When the database completes it scanning for database files it previews the items contained in it. The MDF file shows a preview of Tables, stored procedures, functions, triggers, views, rules, indexes and XML data type. User can select the data, check its status and recover to a new database.
Add Multiple NDF files to Repair
If the SQL server version is not known, the SysTools database recovery software detects the version of SQL server and then let users to add multiple NDF files. To add multiple files user can select the "Add folder" option containing NDF files and export them at once.
Quick Scan of Database
The SQL database recovery software quickly scans the data corrupt SQL files and then preview them in software. The advance scan method helps in retrieving the accidentally deleted tables and its contents. So, SysTools Database Recovery software gives you all the opportunities to get back files and save them in the database.
Recover All Database Components
To ensure no file or component is left, the database recovery tool recovers all the tables, indexes, foreign keys, private keys, primary key, views, rules, triggers, stored procedures, user-defined rules, data types and other database components.
Export items to SQL Server Database
This option enables to directly move the files in to live SQL Server database. User need to enter the database credentials like server name, database name, username and password, and files move directly to the database.
Recovery From SUSPECTED Mode
The Systools SQL recovery software enables database administrators to bring the database from SUSPECTED mode to normal mode. It fulfils the data entry values in the database and then repair and recover SQL database. Additionally, the tool can recover advance data types like Datetime2, DateTimeOffset and other values.
Save the Scanned File
Sometime the size of MDF is very large and it takes more time in scanning, recovering data from this file could take hours so users can save the scanned SQL file in STR format at any desired location. Now upload this STR file for recovery and start the SQL database recovery process. This lets users save time and get qualitative files after recovery.
Systools SQL Recovery Free Download
In order to try the free demo version of Systools SQL Recovery tool to scan the corrupt MDF file and preview the MDF/NDF Components you can drop us a mail.
Pricing
Personal
$249
Lifetime Validity
Recover Unlimited SQL Files
30 Day Money Back Guarantee
Use Code FRT2020 for 20% Off
Frequently Asked Questions
Based on user query we have sorted out common question asked while using Systools SQL Recovery