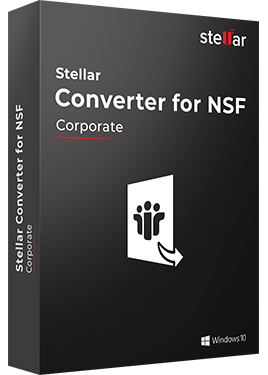 Stellar Converter for NSF
Stellar NSF to PST Converter to convert NSF to PST & migrate all mail items from Lotus Notes to Outlook 2019/2016/2013/2010/2007/2003 & Office365.
Converts Lotus Notes NSF file to Outlook PST file
Saves resultant PST file into existing PST file
Appends converted items into existing Outlook profile
Selective conversion of NSF file mailbox items possible
Allows user to search NSF file at particular location
Supports latest version of Lotus Notes i.e 10.0.1
Migrates multiple NSF files to PST simultaneously(Only Tech Version)
Converts NSF file to Office 365, MSG, EML, RTF, HTML, & PDF formats (Tech Version)
Features of Stellar Converter for NSF
Email Migration between two different application is a complex task if we Migrate NSF to PST manually. To simplify the migration of Lotus Notes to Outlook, Stellar Converter for NSF is the perfect tool. The NSF to PST converter from Stellar exports all email items in their original form and let Lotus Notes users access their data in MS Outlook. Fully compatible, easy to use and reliable the migration software promises complete file transfer error-free. Complete process to Convert NSF to PST using Stellar Converter for NSF is simple and a user with very basic knowledge of Lotus Notes and Outlook can perform the task easily.
Simple to Convert NSF to PST
The NSF to PST migration software comes with simple user-interface that makes it easy for users to export the Lotus Notes data to MS Outlook PST file. The files migrated contain the entire contents stored in NSF in Outlook personal folders that can be used easily. The software changes nothing apart from there conversion to PST meaning their original form is maintained.
Find and Search NSF File
Stellar NSF to PST converter require both Outlook and Lotus Notes installed to convert NSF to PST. User can search for the required NSF files in their system from the 'Search' option and load the desired NSF file in the software. This saves the user time in case the exact location of NSF files is not known.
Selective Recovery of NSF Files
The NSF to PST converter enables users for selective recovery. Its advanced feature let the users select files by filtering them on various parameters. When the tool list the folders and files, type the name of file in search bar and set filters as per date, item size, attachment, email properties, then the tool displays only selected files required by user to migrate.
Save to Existing PST File
NSF to PST converter engine gives users two options to save NSF files. Outlook users can select to add data to existing PST file in their Outlook profile or create a new PST file. The software enables so, that user does not need to import PST to Outlook later.
Convert to Multiple Formats
Stellar NSF to PST converter gives the option to save Lotus Notes NSF files in 7 formats. The recoverable NSF file can be saved in PST, MSG, EML, RTF, HTML, PDF and Office 365 format. So, using it as NSF to PST converter, it can also be used to convert files in other formats too.
Export Lotus Notes to Office 365 Mailbox
As Office 365 is continuously gaining customers because of its cloud-based platform the NSF to PST converter enables to store Lotus Notes files in Office 365 mailbox directly. Users need to sign in with username and password and export NSF files to the desired mailbox.
Free NSF to PST conversion
Well, a lot of users look for free NSF to PST converter and stellar fulfils it. The free version of Lotus Notes to Outlook tool convert 10 items in each folder of Lotus Notes to MS Outlook PST format with complete accuracy and quality.
Create Log Report
To keep the record of Lotus Notes to Outlook conversion the Stellar NSF to PST converter keep records in a log file. It has information of the entire process from file selection to its size, start time, name of the NSF file, source and destination of NSF and status of converted email files.
Testimonials
One of our branch in Australia is using Lotus Notes for communication since beginning but due to some technical reasons we decided to switch to Office 365. As we have already used Stellar's products in the past we decided to use Stellar Converter for NSF tool. We purchsed the tech version of this software and successfully lotus notes mailboxes to Office 365 account without any hassle.
Mike Goodman
Ceo & Founder
I came across many NSF to PST tools while searching on google, I wasn't sure which one will be best choice for me. So i decided to download the trial version of Stellar NSF to PST Tool and two others NSF to PST tool and check the results first. Believe me Stellar converter for NSF is way ahead as compared to other two tools it showed preview of all email items which can be converted while other two struggled to show all emails.
Sara Gillard
Manager
We purchased the Stellar NSF to PST Converter when we decided to move away from Lotus Notes for financial reasons. Initially we were not sure about how the software will perform so we decided to use trial of the software. After having success with the software we purchased the Tech version of the software with 20% Discount available here at FileRepairTools.
Ambit Larson
Entrepreneur
Stellar NSF to PST Free Download
Stellar provides the free version of Lotus Notes to Outlook converter so as users get familiar with its functions and it also offers free conversion of 10 items per folder. Drop us a mail for free trial version.
Contact
Pricing
Corporate
$149
Single Systems
Upto 50 Mailboxes
NSF File Conversion
1 Year Validity
Export Converted File to Office 365
Save Items in PDF, HTML, RTF, MSG & EML Formats
Saves NSF file to New or Existing PST
Converts Multiple NSF files including all mailbox items
Saves NSF file to New or Existing PST
Converts and splits single or multiple mailboxes in one operation
Provides Option to split NSF mailboxes as per 'size' or 'date'
Technician
$399
Upto 3 Systems
Unlimited Mailboxes
NSF File Conversion
1 Year Validity
Export Converted File to Office 365
Save Items in PDF, HTML, RTF, MSG & EML Formats
Saves NSF file to New or Existing PST
Converts Multiple NSF files including all mailbox items
Saves NSF file to New or Existing PST
Converts and splits single or multiple mailboxes in one operation
Provides Option to split NSF mailboxes as per 'size' or 'date'
Frequently Asked Questions
Based on user query we have sorted out common question asked while using Stellar Converter for NSF