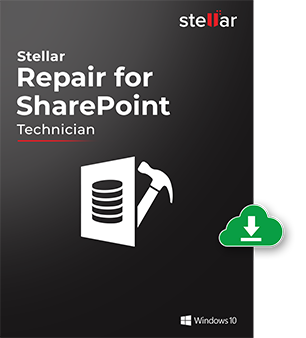 Stellar Sharepoint Repair
Efficiently retrieve lost or deleted documents without any loss using SharePoint Repair software from Stellar.
Recover MDF File used by SharePoint
Repair severely damaged sharepoint database
Preview recoverable items before saving them
Search for Files and Sub-folders
Upload the database file back to server
Seperate option for Document Recovery
Support for MS SharePoint 2007 and 2010
Compatible with Windows 10 to XP
Features of Stellar Sharepoint Repair
Looking for the tool that recover all your SharePoint Database files then Stellar Repair for SharePoint is the perfect choice. The tool quickly repairs the file and retrive all crucial information from SharePoint Server. With its complete repair option you can get the blogs, articles, and upload the recovered data back to SharePoint.
Complete File Recovery
Stellar Repair for SharePoint is the tool that can recover all the items from SharePoint Content database. The tool recovers all the uploaded content in a site collection including blogs, articles, wikis and crucial documents and that too without disturbing the formatiing of files.
Repair SQL MDF Files
SharePoint application runs on SQL database and the database stored files in MDF format. So, stellar Repair for Sharepoint deep scan database and repair MDF file. It resolves all the issues and fix errors that were causing SQL corruption. Data store in site collections, document libraries is recovered by software.
Data Recovery with No Loss
Each and every document is important in SharePoint, and so the tool retrieves all the deleted files. Moreover, files recovred by the software do not lose their qualities, it maintains the formatting, and keep files intact to each other.
Search MDF File
If the system has multiple databases than it becomes difficult to find the specific MDF file. To assist users the tool comes with 'Search File' option. Just input the file name and click on search and related files will be listed, select the desired file for recovery.
Preview the Recovered Data
The methodology of Stellar SharePoint recovery is that it first scans the file and then preview the items that can be recovered. This let users to view that all the items are listed or not and verify that the deleted items are present in recovery list.
Document Recovery
SharePoint Content Database consist of several files, and if you do not wish to recover all items then this feature can be proved useful. Document recovery option list all the documents from multiple libraries and allows selective recovery of items.
Upload Database Files
Stellar Repair for SharePoint is developed keeping things in mind that will be required by Database administrators and so, it not only recovers the data but attach the database file to web application server so that they can be uploaded to server directly saving users valuable time.
Generate Log Report
As soon as the software starts it saves the information in log reports, the number of items repaired, moved, recovered, time, all these details are kept in log reports. User can save this log report in TXT format at any desired location.
Compatability
Stellar Repair for Database is compatible with MS SharePoint Server 2007, and 2010 and it can be installed on Windows OS 10 / 8.1 / 8 / 7/ Vista / 2003 / XP. Contact Us to get the trial copy of the software.
Pricing
Standard Version
$399
Supports Sharepoint 2016, 2013 & Lower Version
Compatible with Windows 10, 8.1, 8, 7, Vista & XP
Use Code FRT2020 for 20% Off
Frequently Asked Questions
Based on user query we have sorted out common question asked while using Stellar Sharepoint Repair Tool