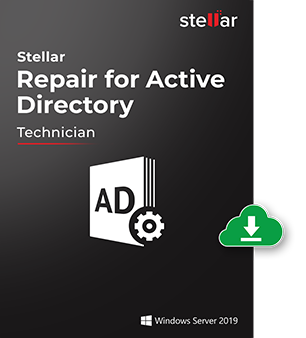 Active Directory Repair Tool
Stellar Active Directory Repair Software is an advanced software for repairing corrupt Active Directory Database NTDS.dit file.
Efficiently repairsActive Directory database
Retrieve all the AD objects like contacts, computers, groups
Set Passwords to Directory Accounts
Preview the Active Directory components
Compatible with Windows Server 2019, 2016, 2012, 2008 and 2003
Features
Corrupt Active Directory database file is a big problem and it should be repaired as soon as possible. Stellar Repair for Active Directory offers various features that check and analyze the file and then restore AD objects to new AD database. It efficiently repair the file without any modifications to original content and make the file recovery easier.
Search for All Backup Files
The Active Directory database gets corrupt due to hard disk problems, memory shortage or internal errors, the Stellar repair for Active directory repairs the corrupt file and restore NTDS.dit file. The file has all the components with user rights and configuration attributes.
Recover All Components in Active Directory
The tool performs full recovery of Active Directory. The tool has works on advanced search engine that scans each and every component of the file. With Stellar repair for active directory one can restore Organizational Units, Computers, MSMQs, InetOrgPersons, Contacts, Groups, and Users.
Set Default Passwords on Files
Stellar Repair for Active Directory software enable user to set a default password on the recovered file. If desired they can set the random password for each file. Moreover, to ensure that the user does not forget password they can be saved in a text file.
Preview Active Directory Objects
The tool not only repairs the file but give users a sneak peek of how the files will be after recovery. The preview window is divided in two panes, folders, and files, easily navigate in between the folders and view the corresponding files in software interface.
Maintains File Properties
Stellar Active Directory repair tool recover the AD objects/ components with their properties. The permissions, rules set by admin and other settings are recovered with files so that the work can be resumed without any changes.
Fast and Efficient Recovery
Stellar repair for Active Directory comes with all the features that a user needs it performs fast and efficient recovery of files. With-in 3 steps you can recover all active directory components. Just select, repair and save.
Free Download
Ensure the recovery of NTDS.dit file and check function of directory software for free
Visit Website
Frequently Asked Questions
Based on user query we have sorted out common question asked while using Stellar Active Directory Repair Tool