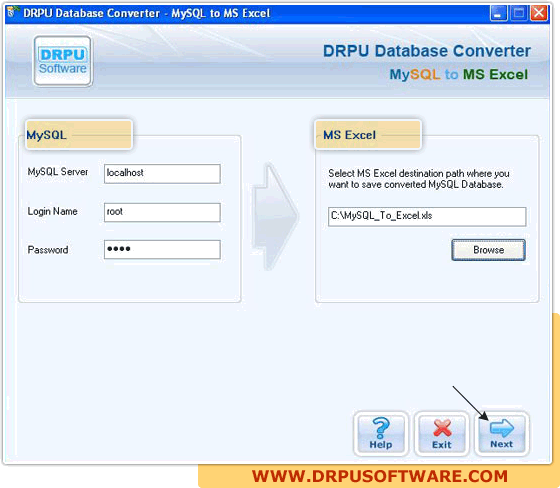 MySQL to MS Excel Database Converter
Move all records, tables, indexes from MySQL Database to MS Excel Tool easily without disturbing the Database Integrity.
Export All SQL Records to Excel spreadsheets
Multiple file conversion from SQL to Excel
Move all the MySQL files to MS Excel
Preview MySQL Tables and Selective Conversion
Maintain Database Integrity
Support All MySQL and Excel Attributes
Compatible with All MySQL Versions
Customize according to Brand
Features of DRPU MySQL to Excel Converter
MS Excel Sheets act as a mediator between different applications. The Excel files can be saved in CSV (Comma Separated Value) and used with Outlook data files or Contact information in Excel can be used to convert it in VCF file. Similarly MySQL Database Administrators may require it for other purposes but first they need to convert it in MS Excel format. To achieve high level of accuracy DRPU MySQL to MS Excel is the best tool. The software converts bulk MySQL database in MS Excel spread sheets. Giving the database administrators unique feature, the tool move MySQL contents to XLS format in simple clicks without disturbing the integrity of database. With MySQL to Excel Converter DBA can export all the contents and save in XLS file effectively.
Move All MySQL Records
Consider you have a employee information table in MySQL and a user require the contacts of all these employees, then DRPU MySQL to Excel converter, move the employee name, company name, profession, contact number, address and other details in an MS Excel spreadsheet. The MySQL table information is now available in XLS format.
Export Multiple MySQL Tables
DRPU MySQL to MS Excel converter tries to make the migration processor more convenient, simpler and faster. It avoids the method of converting MySQL tables one by one, with the batch conversion mode multiple tables can be selected from a single database and transferred to MS Excel spreadsheets.
Complete transfer of Files
DRPU Database conversion tool is designed as such it exports the file from MySQL table to Excel sheet completely. The entries that are available in table get stored in excel rows. Items are moved in a manner that they maintain their properties and the record will refer to its own entries. It avoids the confusion of organizing and sorting data manually as the software engine does it for DBA.
Options to Choose Tables
MySQL consists of numbers of database and each database has multiple tables. When the connection is established to MySQL using DRPU database converter it loads these database and tables. So, database administrators can select the database name and then select table name to convert.
Maintain Database Integrity
Most of the users afraid that migrating the data may cause database damage, but this is not the case with DRPU MySQL to MS Excel converter. It make changes only as per the instructions of user. It will modify only those files which are selected for modification and leave the rest of data in same manner preserving the database integrity.
Avoid Database Loss
Database administrators are fully aware of the consequences of database loss and avoid such tools, keeping these things in mind the DRPU MySQL to MS Excel converter remove the errors and issues that occur during transfer. It keep record of all the things and the files are exported in a qualitative manner without any loss.
Maintain Attributes
To achieve high transmission rate with complete accuracy DRPU MySQL to MS Excel converter support all the data types and attributes of both MySQL and MS Excel. The functionality that is used by MS Excel for storing and maintaining data is used by software so that they work perfectly with Excel without any problem. Same phenomena go with MySQL when they are imported by the tool. Change in file format occurs during conversion.
Simple User Interface
The user interface of DRPU MySQL to MS Excel converter is simple that enables user to operate it easily without facing any problem. Without any need of specific programming language or technical skill the users can transfer their data from one MySQL tables to MS Excel XLS spreadsheet.
Compatability
To cover large number of users, organizations or industries DRPU Database Converter for MySQL to MS Excel is compatible with MS Excel 2019, 2016, 2013, 2010, 2007, 2003, 2002 and MySQL MySQL 8.0, 5.7, 5.6, 5.5. Contact Us to get the trial copy of the software.
Frequently Asked Questions
Based on user query we have sorted out common question asked while using DRPU Database Converter for MySQL to Excel