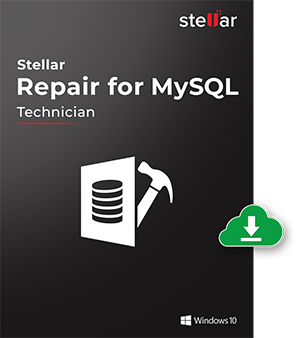 MySQL Database Repair Tool
Repair Damaged MySQL files and recover deleted items, tables, views, triggers, indexes with this efficient database recovery software.
Resolve Common MySQL Errors
Repair MySQL InnoDB and MyISAM tables
Repair Damaged and Corrupt MySQL Files
Recover Tables, Keys, Views, Triggers
Search for Data items after scanning
Repair MySQL Database created on Linux System
Manual or Automatic method for Database repair
Compatible with MySQL 8.x, 6.x, 5.x, 4.x, and 3.x
Features of MySQL Database Repair Tool
MySQL is one of the popular database system used by organizations but if it is not maintain properly, the database files may get corrupt or even more gets deleted. In such cases Stellar MySQL Database Recovery is the best tool for recovery. Easy to use, reliable, flexible and compatible with all versions of MySQL, it makes data recovery efficient and error free.
Repair Damaged MySQL InnoDB and MyISAM Tables
Stellar MySQL Database recovery software advanced algorithm repairs MySQL InnoDB and MyISAM Tables to their original form. It deeply scans the database and retrieve MySQL InnoDB (.frm, .ibdata, .idb) and MyISAM (.frm, .myd, .myi) files keeping the data types and key constraints.
Repair Corrupt MySQL Database
Recovery of data is only possible when database is fully repaired hence before the items can be recovered the Stellar MySQL database tool repair the database, it removes the errors and then recovers data from inaccessible tables. The software is smart enough to get back tables, keys, triggers and other objects in their original format.
Fix all MySQL Corruption Errors
A small mistake in MySQL table could result in errors and these errors are common cause of database corruption. So, MySQL database corruption could be prevented by fixing these errors. The software resolve multiple MySQL database errors like 'Error Establishing a Database Connection', 'Index file is crashed' and many others.
Multiple Database File Recovery
An organization has multiple database and the tables in these databases and generally linked to each other. Repairing each database one by one takes lot of time, so to minimize the time usage Stellar MySQL Repair tool accepts multiple database files in btaches and several databases can be repaired in one go.
Search and Preview Items
When MySQL tool scan the database it presents the database files, tables in preview window. User can easily navigate in between folders and search for specific objects from the recoverable items. Select the specified item and recover without any issue.
Recover MySQL Database from Linux System
Different Operating Systems have different format to save files and they use another method for saving the files. If the MySQL database is created on Linux system then port the database folders and 'ibdata1' file to Windows and then repair and recover the mysql databe of Linux OS.
Save Database in Multiple formats
There are times when Database administrator need to export database to other databases. Hence, Stellar MySQL Database Recovery tool offers you to recover database and save it in multiple formats CSV, HTML, & XLS. These formats are generally accepted by major databases.
Custom Repair of MySQL Database
The software helps database administrators to repair databases at default location or browse for MySQL files manually to another location. It rich user friendly interface makes it easy to use and let users to add frequently-used commands and quick access.
Compatability
Stellar MySQL Database Recovery software is compatible with MySQL 8.x, 6.x, 5.x, 4.x, and 3.x and it can be installed on Windows OS 10 / 8.1 / 8 / 7/ Vista / 2003 / XP. Additional advantage of the tool is that it can be used on Linux OS too.
Pricing
Standard Version
$199
Repair Corrupt MySQL
Repair MySQL Database Created on Windows & Linux
30 Days Money Back Guarantee
Use Code FRT2020 for 20% Off
Frequently Asked Questions
Based on user query we have sorted out common question asked while using MySQL Database Recovery Tool