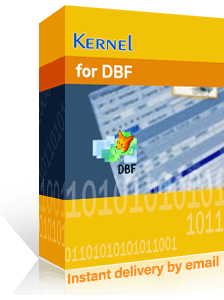 DBF Repair Tool
Kernel for Database Repair is a professional tool to recover deleted records, DBF files and other database components.
Fix All the Database File Errors in minutes
Recover DBF files in Batches
Preview your DBF files without any error
Recover the table structure and table data quickly
Repair the Database Files with memo or binary data
Capable to get back database from damaged hard-disk
Recover the table structure and table data quickly
Rename DBF files while saving
Works with DBF file created using FoxBase, dBase, Sybase
Features of DBF Repair Tool
Database is the vital part of an application, without a database it is impossible to run the application. That's why it is necessary for organizations hire Database Administrators for their management. DBA continuously run the maintenance task and backup database to avoid issues but there are some external factors which result in database corruption and loss of DBF file. Kernel for Database Repair is the tool that can repair the severely damaged database and recover lost/ deleted DBF files. With advanced DB tools it starts its work and give quality rich DB files after recovery. Recover deleted records, DBF files and other components easily with this amazing software.
Fix DBF File Errors
If the items in the DBF file are not present then it will generate errors and Kernel for Database Recovery software easily fixes the issues like files in the table did not match entries or table has become corrupted, file 'table.dbf' does not exist, 'Table has become corrupted' and 'Access to table disabled due to previous error'. The tool easily removed these errors and bring database to normal state.
Recover DBF Database from Corrupt Hard disk
Kernel DBF file recovery software gives the advantage to recover Database files (DBF) from corrupt database. The software runs its scanning engine on the drive and look for files with .dbf extension. It collects the information and then store them at desired location on other device.
3 Easy Steps for File Recovery
Kernel DBF recovery software gives its users the minimal user interaction with maximum output. Add the damaged DBF file then click on repair and after that save the recovered DBF file. So, in 3 easy steps the corrupt DBF files are repaired and recovered by the Kernel database tools.
Preview Files Before Saving
Recover only those files which you want instead of the whole file recovery. Kernel database recovery software preview lost data before saving. The tool also recovers lost, formatted and accidentally deleted data from database. The database is designed with algorithm that looks in different folder of the database and list the files that were deleted, lost or removed by errors. Select the files from these categories and restore them to database.
Recovery With Binary Fields
As the working process of database it store memo and binary data fields in DBT and FPT files. The content from these files can be used to repair corrupt DBF files in minutes. Without the need of a technician the Kernel data recovery software enables end-users to make changes to database and get their files back.
Batch File Recovery
Oracle Database Recovery is versatile software; therefore, it is capable to recover databases created using Oracle 9i, 10g, 11g. However, before you start the recovery process, you should create a blank database. This blank database can be selected during the recovery process to save all the recovered data inside it.
Multi-database Platform Support
The DBF file recovery software is not limited to single database application, it can easily recover and repair files created using FoxBASE, dBase, Sybase, MS Visual Fox Pro and many more.
Easy to Use
The software has an rich user interface that has tools to manage the DBF file efficiently. It works on a DIY (DO it Yourself) principle and make it easy to recover and convert DBX files.
Trial Version
Download the free trial version of Kernel DBF Repair Tool to preview of all the recoverable database objects. Drop us a mail to get trial version of Oracle database Repair Tool.
Pricing
Personal
$99
Lifetime validity
Single System
Recover Unlimited DBF Files
Use Code FRT10 for 10% Off
Corporate
$159
Lifetime validity
Multiple System Single Location
Recover Unlimited DBF Files
Use Code FRT10 for 10% Off
Technician
$219
Lifetime validity
Multiple System Multiple Locations
Recover Unlimited DBF Files
Use Code FRT10 for 10% Off
Frequently Asked Questions
Based on user query we have sorted out common question asked while using Kernel DBF Repair Software