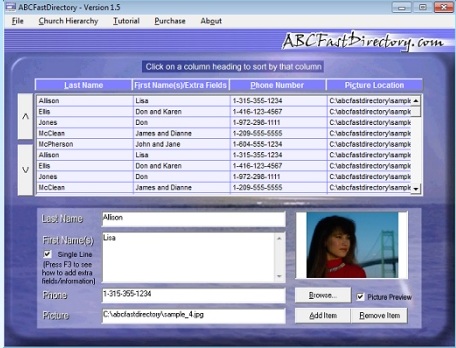 ABCFastDirectory Tool for Church
ABCFastDirectory Tool is the ultimate solution for managing contacts especially Church Directory with detailed information of the member in a table view manner.
Can be used as Text directory and Photo directory
Import and Export Data from Microsoft Excel
Export the Directory in PDF format
Customize Directories according to the needs
Easily Sort and Find Member names
Add, Crop, Resize Images in Photo Directory
Automatic Layout of Directory to Add Information
Church Hierarchy Directory and Group Members
Easy Installation and Print Process
Comes with Lifetime Membership
Features of ABCD Fast Directory
Wondering how to make a church directory then ABCFastDirectory Tool is the ultimate solution. Create professional directories for church groups, telephone listings and family photographs easily with its custom options. The software presents the detailed information of the member in a table view from where each detail can be fetched easily. Moreover, it also supports church directory hierarchies, so there is no need to buy another software as all the features are available in ABCFastDirectory tool. Compatible with Window Operating system with Lifetime membership the ABCFastDirectory is the perfect tool for member management.
Easily Create Directories
ABCFastDirectory allows users to create text directories in their required format. Add names of members belonging to a particular group and save it. The ABCFastDirectory is useful for club members, sports clubs, elderly members, students in school for a particular project, event managers, and many other organizations that need details of individuals frequently.
Import from MS Excel
This Directory Tool removes the traditional method of copying the data from MS Excel sheet and includes it in Directories format, now users can import the entire excel sheet to the software and view the details row and column wise. This feature of ABCFastDirectory saves the long hours that were spent in manually entering the data from excel to other formats.
Easy Customization Features
Users are not restricted to use only default options, they can add the personal touch to the directory and change the font colour, its size, and font type. This represents the information in a more well-designed format. Like for a sports club, the font colour could be as that of their dress and for a school project the name of users could be in that of their house colours.
Change Directory Columns and Rows
ABCFastDirectory has inbuilt layout but it gives the flexibility to modify it as per needs like one can change the number of columns and rows in the directory, pictures that are to be included in a single page, information of the members to be displayed, customize the page header and footer, option to display page number in directory /date of modification and other basic parameters that one found useful.
Church Directory Hierarchies
The advanced version of ABCFastDiretory church directory software enables to create church directory hierarchies. Specify the main group and then enter sub-groups, the sub-group members can further classified in to other groups having a tree-like structure. With this feature, it is easy to know which member belongs to which church group.
Find and Sort Option
The listings created with ABCFastDirectory are in the form of columns and rows. The columns may include First Name, Last Name, Phone Number, Picture location so one can click on the column heading and sort it on the basis of name, date. The browse option enables to upload the photograph of member directly from the local computer.
Photo Edit and Preview
Working on a photo directory of member or church then, easily modify the photos. Edit and crop them or centre text and image so that it properly fits the page. Once the edits are done preview the page and directory in real-time and print it.
Print Option
Customize the layout of page and print preview it. Finalize the design and then print directory by saving it as PDF format. The images in Photo directories also get converted and you can also change the paper size before printing.
Free Download
For free trial version of ABCDFastDirectory, Drop Us a mail
Contact
Frequently Asked Questions
Based on user query we have sorted out common question asked while using ABCD Fast Directory